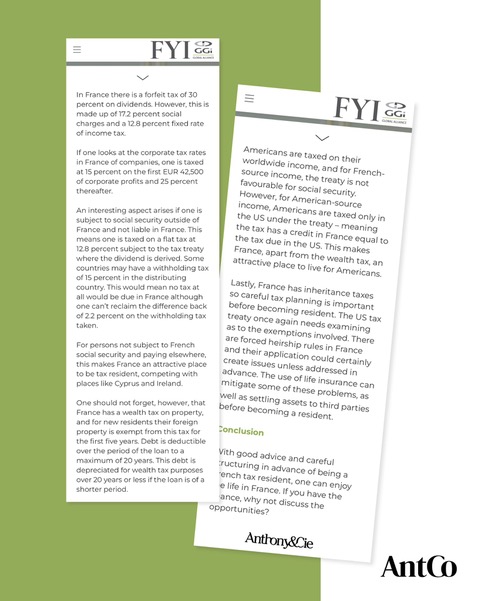 Apart from its fabulous living environment and art of living, France can also attract any wealthy foreigner looking for an attractive country of residence in terms of taxation.
With good advice and careful structuring in advance of being a French tax resident, you can success in your experience.
Read more details in Robert Anthony's contribution in "GGI ITPG News".
And do not hesitate to discuss with us your specific profile, enquiries and the opportunities.
AntCo is an active, independent member of the Geneva Group International, a powerful global alliance of carefully selected and vetted law firms, tax advisors, audit, trust, management consultants and accountancy firms. We collaborate regularly with GGI members across the globe.
The GGI alliance includes Worldwide over 4,000 Partners, 623 member firms and 870 member offices, employing 29,600 professionals in more than 126 countries worldwide, with a cumulated fee income of USD 6.300 million (2017).
The latest survey carried out by Accountancy Age in London, ranks GGI #1 as multidisciplinary association worldwide, and #2 in the list of Associations and Alliances.